Details
Good News: THL T100S Support Free Shipping, and We will send Flip Cover and Screen Protector as a gift.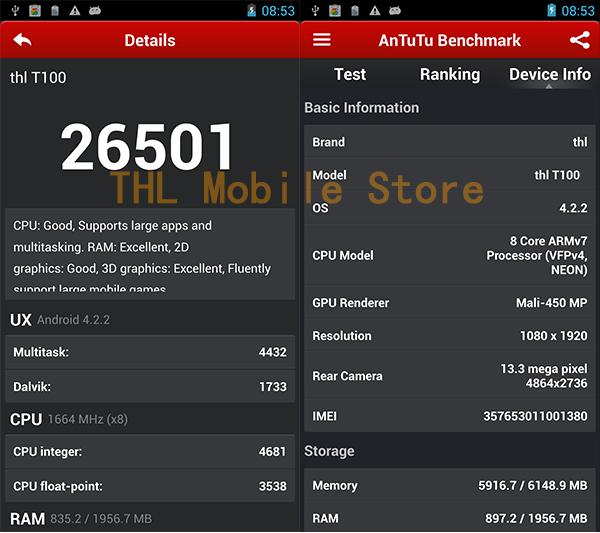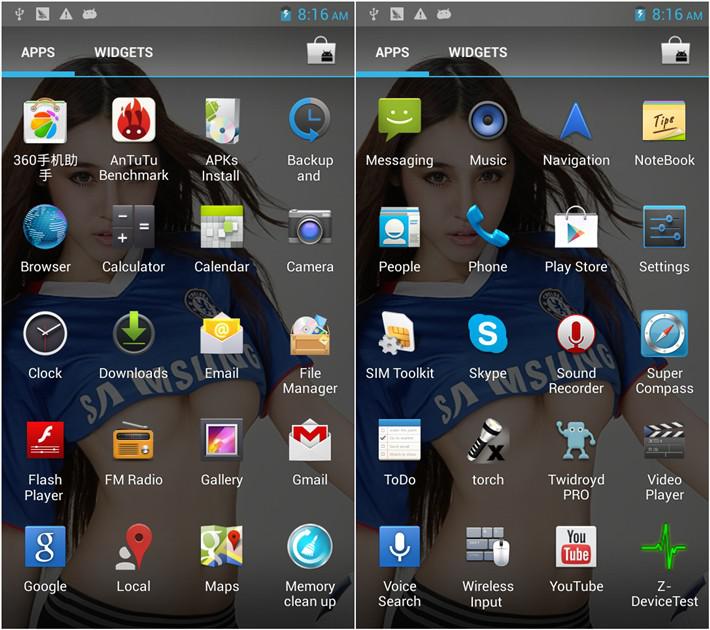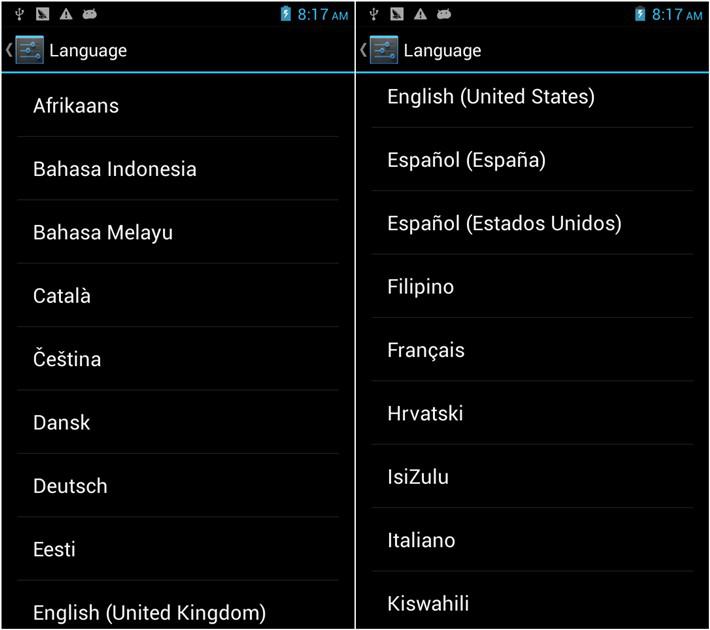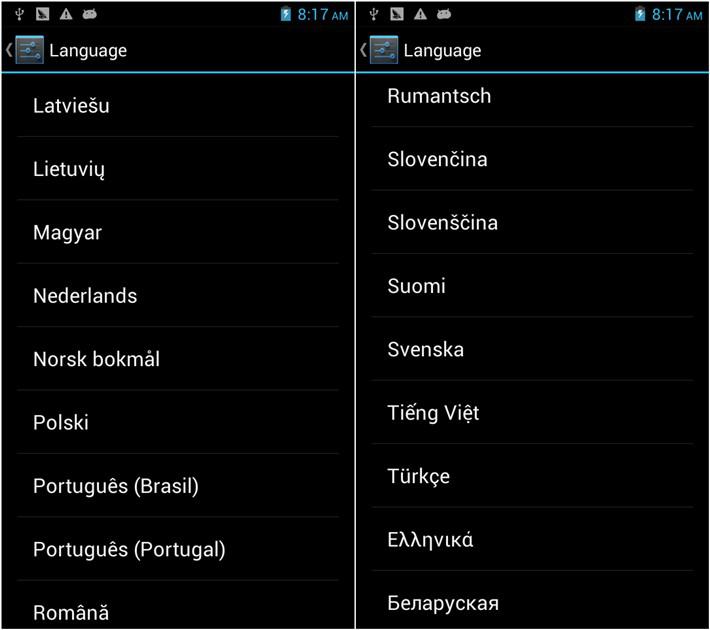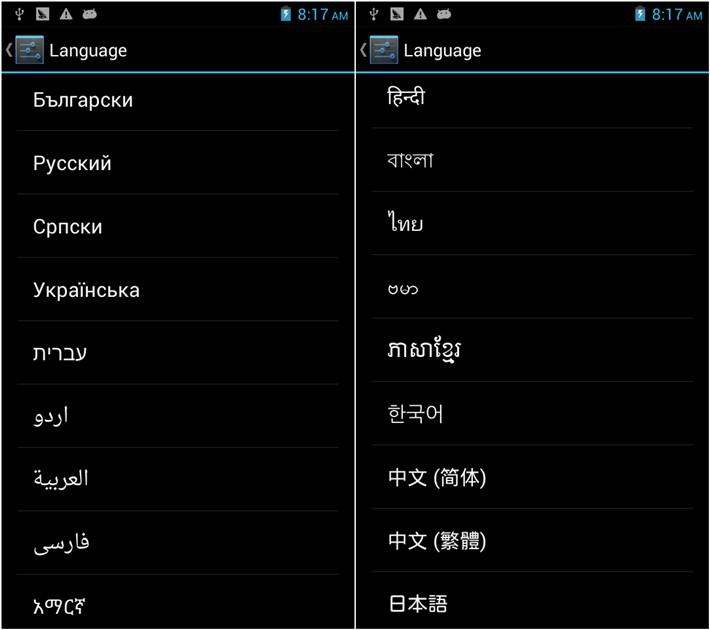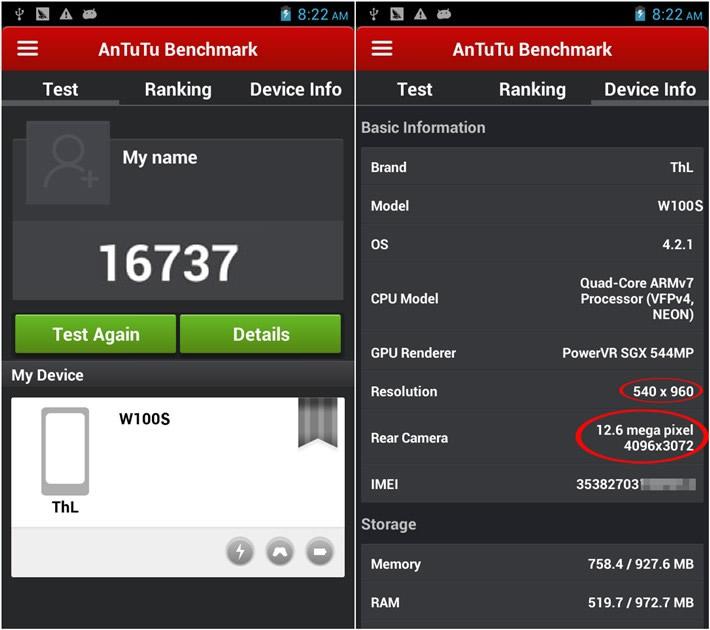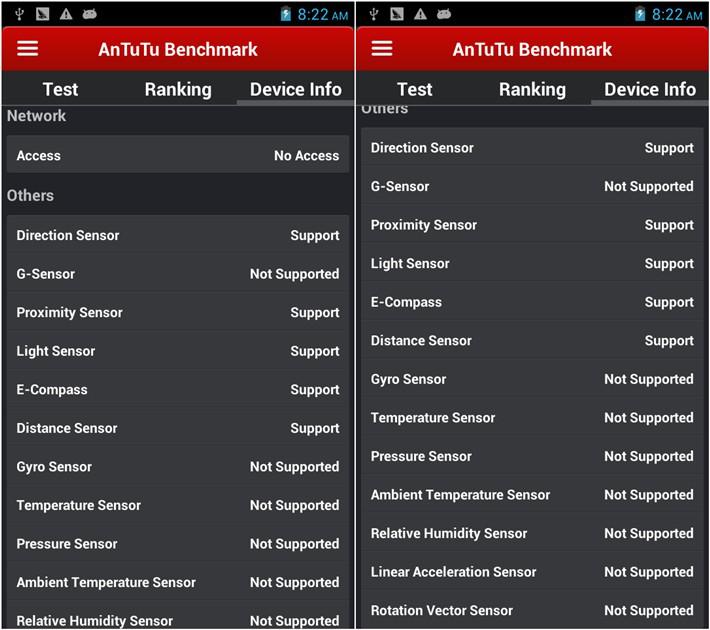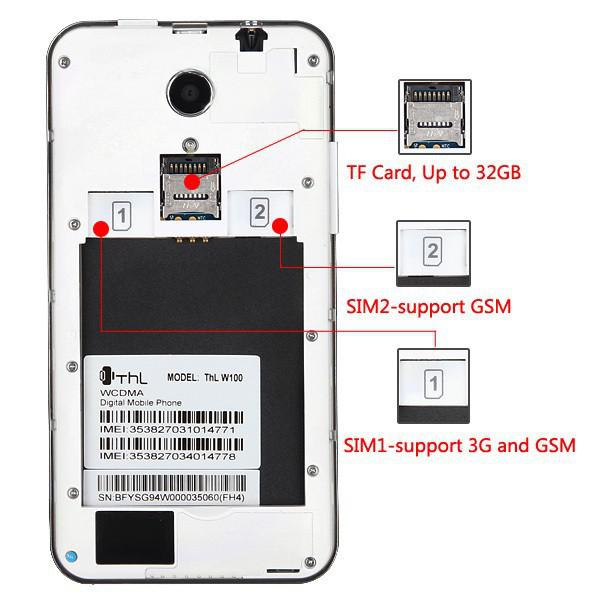 ThL W100S smartphone is the THL W100 Upgrade version, MTK6582M quad core, up to 1.3GHz, 1G RAM + 4G ROM with 960*540 QHD screen, $159.00 price is quite amazing and impressive. Android 4.2.1 OS, promises quite a fast operation speed. 5.0MP front camera for convenient self-capturing, 8.0MP back camera for you to record every single moment clearly; 3G, GPS, WiFi, WiFi direct, hotspot, etc all available to make this ThL W100S the most valuable choice.
ThL W100S Smartphone will only work with GSM + WCDMA network
(1)Compatible 3G network: WCDMA 850/2100MHz
(2)Compatible 2G Networks: GSM 850/900/1800/1900MHZ
ThL W100S Smartphone is unlocked for worldwide use, make sure your local area network is compatible with this phone, you can click here( http://maps.mobileworldlive.com/ ) to see the frequency for your country, please confirm these frequencies with your network operator or providers before buying this phone.
ThL W100S Basic Parameter Information
Model
ThL W100S
Band
2G: GSM 850/900/1800/1900MHz
3G: WCDMA 850/2100MHz
Sim Card
Dual SIM Card Dual Standby
Service Provide
Unlocked
Style
Bar
Color
White
Shell Material
Plastic
OS
Android 4.2.1
CPU

MTK6582M, Cortex A7 quad core, 1.3GHz

;
GPU: PowerVR SGX 544
ROM
4GB
RAM
1GB
Display Size
4.5 Inch
Type
IPS, capacitive touch screen
Resolution

960*540 (QHD)

Screen Color
16000K Colors



ThL W100S

Support Format
Ringtones Type
Polyphonic/MP3
Audio File Format
MP3/WAV/eAAC+/AC3/FLAC
Video File Format
MP4/DivX/XviD/WMV/H.264/H.263
Image File Format
JPEG/BMP/GIF/PNG/GIF
E-book Format
TXT/CHM/DOC/HTML
FM Radio
Yes, earphone needed
Earphone Port
3.5mm
Card Extend
Support TF card up to 16GB extended



ThL W100S

General 
Camera/Picture Resolution
Dual Cameras,

 front camera 5.0MP

, 

back camera 8.0MP


with flashlight and auto focus

Language
English, Bahasa Indonesia, Bahasa Melayu, Cestina, Deutsch,
Espanol, Filipino, French, Italiano, Magyar, Nederlands,
Portuguese, Romana, Vietnamese, Turkish, Greek, Russian,
Arabic,Thai, Chinese
Phonebook
500
Message
SMS/MMS
Input
Handwrite/Keypad
TV
No
GPS
Yes, built in, also support A-GPS With EPO assistance to speed up postioning
JAVA
No
WIFI
Yes, 802.11 b/g/n
Bluetooth
Bluetooth 2.1
Gravity Sensor
Yes
Multi-Touch
Yes , 5 point touch
Dimensions
134 x 69 x 10.3mm/5.27 x 2.71 x 0.4 inch
Net Weight(Including battery)
135g
Standby Time
About 2~3 days
Other Feature
3G, WIFI, GPS, FM, Bluetooth, Ebook, Email, Messaging, wallpapers,
calendar, calculator, clock, camera, Play Store, compass, etc



ThL W100S

Package
Size
173 x 92 x 60mm/6.81 x 3.62 x 2.36 inch
Weight
525g
Accessories
1 x 1800mAh Battery
1 x 3.5mm Earphone
1 x USB Cable
1 x Charger
1 x Screen Protector
1 x English User Manual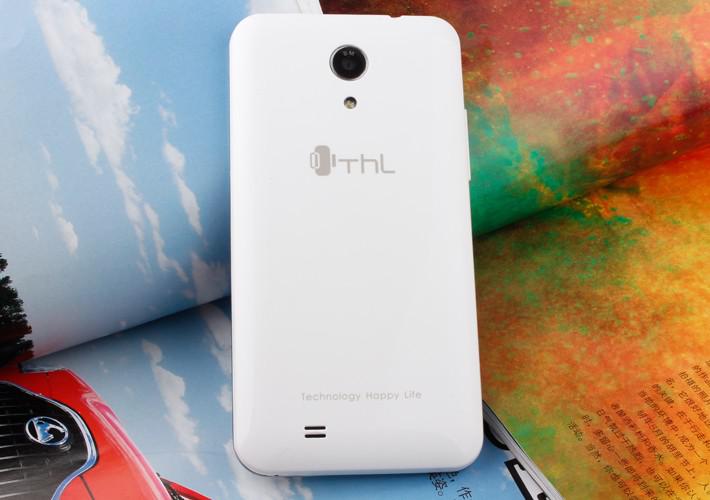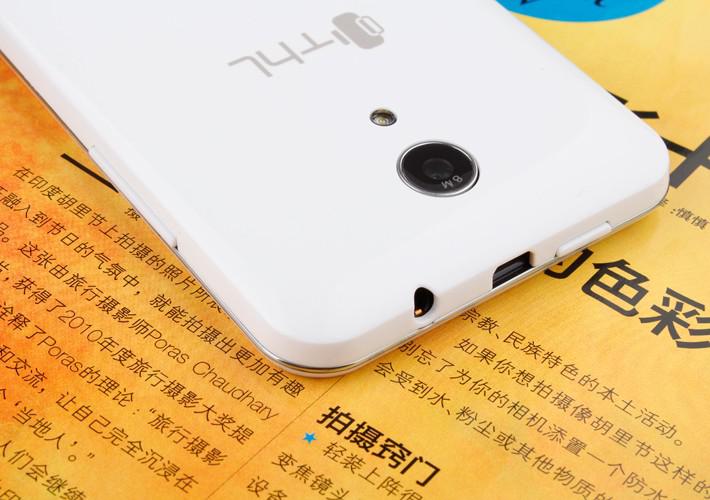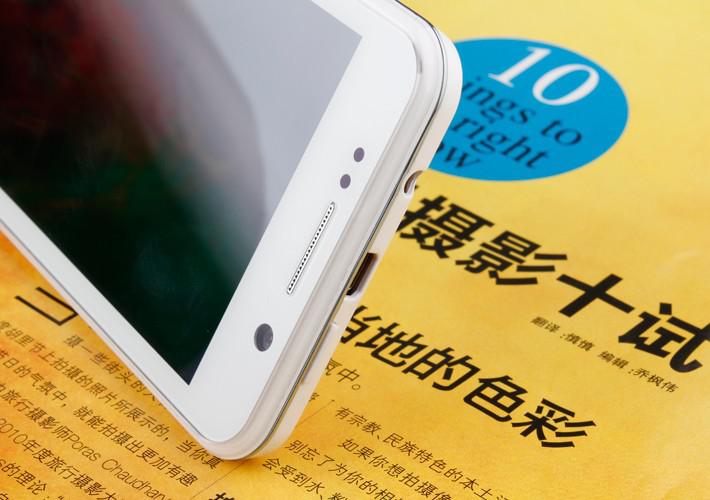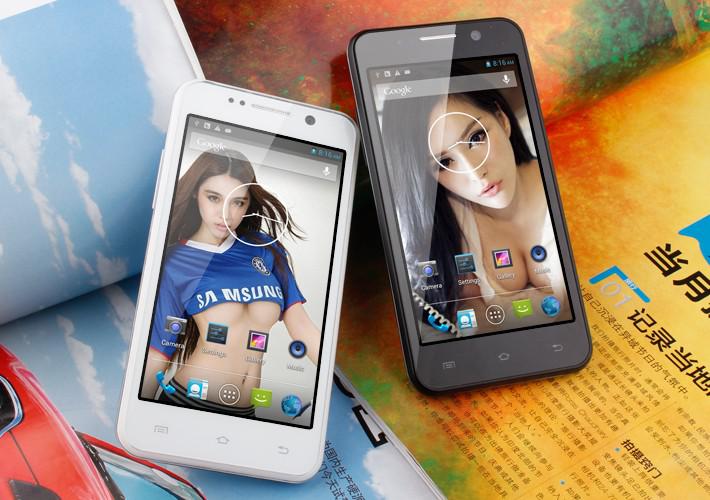 Note: Please remove the Plastic Strips on the battery before using!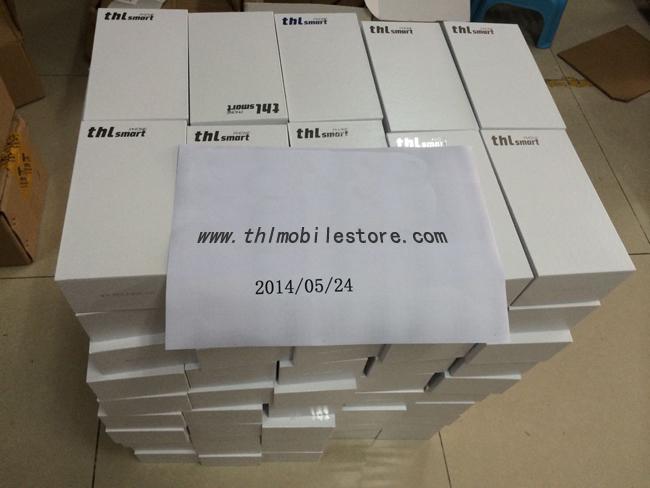 You may also be interested in the following product(s)
Questions on THL W100S Android 4.2 MTK6582m 1.3GHZ Quad-Core SmartPhone 4.5 Inch IPS Screen White
Sort by

From zambi at

9/29/14 9:02 AM

hello world,
in news category you have published instruction how to upgrade android with a highlighted text "ONLY MT6592 + Motherboard 1363GH".
its this upgrade possible for MT6582.
thanks in advance
THL Mobile
Thank you for your mail.
No, This firmware is not suitable for MT6582.

From Irene at

9/29/14 6:34 AM

From jenia at

9/19/14 10:51 AM

From Richard at

9/9/14 7:45 AM

Do you do repairs? We have a THL W100 and nobody in Ireland or UK will touch it - I have been in touch with THL in China and as yet not much help. THL's are a great phone but if there is nowehere to have them repaired they become very expensive as throw away items!

Cheers, Richard
THL Mobile
Thank you for your mail.
Could you kindly tell us your order number?
All are under one year warranty. (Excluding the accessories).

From Myrto at

8/25/14 4:32 AM

From rodger at

8/7/14 8:33 PM

From Fernando Silva at

8/4/14 6:35 AM

From Gilvan at

8/3/14 9:10 AM

From jaime at

7/30/14 5:55 PM

hello world, I have a thl W100S, long ago I have problems with wifi, does not recognize me or networks networks come and go, and probe to restore the original factory rom but still the same, is there any solution?
Thl Mobile :
Thank you for your mail .
Could you kindly tell us your order number firstly ?

From Eduardo at

7/28/14 10:02 AM

hello world, I have 6 months my thl W100S ago, will working fine until the wifi gives fails, for any reason, the wifi networks either my home or anywhere, do not show me the signal comes and goes all the time, I have 3 computers and all alone with my thl I happens, I've done a hard reset recovery and to rule out everything but still the same, any recommendations?
Thl Mobile :
Thank you for your mail .
Could you kindly tell us your order number firstly ?
All thl mobile come with 12 months factory warranty .

From john at

7/16/14 2:51 PM

hello world from me.i want to ask you a question for my w100 phone.have any battery upgrade beyond 1800mb ? the battery from t100s is the same dimensions to put it in my phone?
THL Mobile
Thank you for your mail.
THL W100 no larger battery, THL T100S mobile phone batteries are not suitable for W100.

From Jade at

7/9/14 8:08 AM

hello world. Thank you for phone. Very nice device! Could you explain in short steps how can i connect with internet?

My settings:

Sliding panel> : : >Data connection>on / Airpane mode>off
Settings>SIM management>Data connection>my sim
Settings>more...>Mobile networks>Data connection>my sim
Settings>more...>Mobile networks>3G Service>enable 3G>my sim
THL Mobile
Thank you for your mail.
Settings>more...>Mobile networks>3G Service>enable 3G>my sim

From Shlomi at

7/5/14 2:37 AM

I have just orderd w100s can you update for the latest firmware ?
Tnx.
THL Mobile
Thank you for your mail.
THL W100S firmware: http://pan.baidu.com/s/1jGGBDrS

From Vânia at

7/4/14 3:49 AM

From katheryne at

7/1/14 4:01 PM

From yuval at

7/1/14 2:44 PM

From katheryne at

7/1/14 6:25 PM

how can i do the wire transfer?
did the T100s Flip cover works for the W100s cellphone? if not, do u have flip covers for the thl w100s?

Thl Mobile :
Thank you for your mail .
Yes, Payment options available also include Paypal/credit card / wire transfer .
We will release the accessories for thl W100s phone on our website soon .

From Ashley C at

6/29/14 3:55 AM

Hi There,

I have had a THL w100s for 8 months and recently when I went to charge it through my computer, it did not work. An error message on the computer stated something along the lines of 'too much power to the USB port'. SInce then I have been unable to charge my phone through either the usb or power ports. It still turns on but battery is low as it has not been able to charge. Do you have any suggestions for what I can do to fix this? I am unsure if buying a new battery will help as i might have blown the fuse?

Thanks,
THL Mobile
Thank you for your mail.
I suggest you buy a new battery.

From kostas toub at

6/24/14 1:02 PM

From Xenon at

6/16/14 2:46 AM

From ashraf at

6/12/14 11:52 PM

From ANTONIO at

6/10/14 8:05 AM

From Ina at

6/8/14 9:00 AM

Dear THL Mobile Support Service,

Thank you for your prompt answer. If I'm interested to buy this device and I don't need it in few days, I would like to know which is the most cheapest way to buy this telephone? If there is a possibility to write on the box that there is a gift... for Romanian customs exceptions, how much is my total cost with this mobile purchasing?

Thanks in advance!

Edina Kulcsar
THL Mobile
Thank you for your mail.
You choose free shipping, the lowest cost,
We are not sure about your local customs, but we can help you reduce and avoid import taxes by declaring prices low, declaring the contents as "gift" or other items and shipping in simple packaging.

From Ina at

6/6/14 10:22 AM

hello world!

I'd like to know how much is the total cost of shipping and delivering THL W100S to Romania with DHL?

Thanks!
THL Mobile
Thank you for your mail.
The shipping cost to Romania is 54.23USD, you will got your package in 3-5 business days around by DHL, total cost is $194.22, we support free shipping.

From sunpeth at

5/29/14 8:44 AM

From Fabian at

5/29/14 5:53 AM

From Pantelis at

5/12/14 6:43 AM

hello world, I live in Greece! ! How much does the shipping cost? There are extra charges for the customs? ?
THL Mobile
Thank you for your mail.
The shipping cost to Greece is 11.60USD by Airmail, we will print your package value under 50USD, but we are not sure about your local customs.

From raquel at

5/11/14 2:29 PM

From Derek M at

5/5/14 9:09 AM

Specifically, what type/class of micro sd card will the THL W100s support,
i.e class 4, class 6, class 10, and will it support 32 Gb card?
Thank you, Derek M.
THL Mobile
Thank you for your mail.
THL W100S phone support class 10 TF card, it support TF card up to 16GB extended.

From Pascal at

5/4/14 5:56 AM

From sam at

4/27/14 9:19 AM

From Panos at

4/23/14 1:03 PM

I have the w100s and it does not show the correct % of charged battery after is fully charged. I have to remove the battery and restart the phone and then it shows fully charged.Can you help me with this problem?
Thl Mobile :
Thank you for your mail .
Please change another charger or the battery to check with it .

From WildWind at

4/19/14 6:47 AM

From oscar (de argentina) at

4/18/14 6:59 AM

Mi opinion de usuario es la que encabeza la lista y desde aquella vez no tuve respuesta a mi pregunta sobre el manual del usuario del thl w100s en español. Espero su respuesta, desde ya muchas gracias.
Thl Mobile :
Thank you for your mail.
We will email you at the first time when the manual in Spanish language be released by factory .

From Jan at

4/11/14 1:01 PM

From stathis at

4/11/14 11:18 PM

From luis carlos at

4/3/14 3:04 PM

From cfs010 at

3/29/14 3:40 AM

From SAM at

3/14/14 2:52 AM

From yonah at

3/9/14 1:49 AM

From Gent at

2/28/14 2:20 PM

From Roland at

2/28/14 2:49 AM

From paddy at

2/20/14 6:55 PM

From musa at

2/15/14 12:17 PM

From Basilis at

2/14/14 3:26 PM

From Álvaro at

2/2/14 3:18 PM

From Fusco Pasquale at

1/27/14 3:13 AM

From Renato at

1/14/14 2:54 AM

From melita at

1/10/14 5:45 AM

From Andrei at

12/25/13 1:17 AM

I would like to order a w100s but I would like to order the black version of w100s. Does the black version still exists and if so, where can I order it?
Thl mobile :
Thank you for your mail .
For thl w100s black version ,please check here (http://www.thlmobilestore.com/thl-w100s-smartphone-android-4-2-mtk6582m-1-3ghz-quad-core-4-5-inch-ips-screen-5-0mp-front-camera-black.html)

From sandro angelosanti at

12/24/13 1:42 PM

From Valadis at

12/24/13 1:21 AM

I already own THL W100. I suppose the Bluetooth Headset for W100S is compatible with the W100, but is it possible to just order the Bluetooth headset?
Thl mobile :
Thank you for your mail .
We will submit the Bluetooth headset on our website when it be released by factory .

From snickky at

12/24/13 10:49 PM

From Mike at

12/20/13 8:54 AM

From JOAQUIN at

12/20/13 4:48 PM

hello world i have the order number 920007812.Could you put a lower price due to avoid taxes ?.
Thank you very much for your attention.
Thl mobile :
Thank you for your mail .
We can help you reduce and avoid import taxes by declaring prices low, declaring the contents as "electronic accessories" or other items and shipping in simple packaging.

From carlos at

12/13/13 1:05 PM

From Tanya H at

12/9/13 3:40 AM

I just purchased THL W100S phone, I am trying to find user manual in English language available for downloading but had no any success so far. Could you please sent me User manual for this model
Thl mobile:
Thank you for your mail .
We will email you when the manual in English be released by factory .

From Pixels at

12/5/13 12:05 PM

From Eli at

12/4/13 5:27 AM

From pedro at

12/1/13 1:29 PM
Ask Your Own Question
Customer Reviews
perfecto equilibrio entre costo y calidad Review by

oscar (de argentina)

mi esposa y yo lo tenemos hace 2 meses. el thl w100s està sobre el nivel de similares telefonos de las marcas lideres (samsung, nokia, lg y otros). pienso que los thl de màs alta gama deben ser insuperables. FELICITACIONES ! (Posted on 2/21/14)

A great value phone Review by

Captain

I brought this phone on a friends recommendation, I previously had an iPhone and a separate phone for work.
This duel sim phone does everything I need, I have sourced all my favourite apps from the android site so am more than happy, I only carry one phone now.
(Posted on 2/10/14)

Thl w100s Review by [email protected]

Buon telefono in rapporto al prezzo.
Tre pecche:
1. la sorpresa della dogana €29.70 in più di quelli programmati;
2. spedizione un pò lenta (ordine effettuato il 20/01/2014 ed arrivato il 26/01/2014;
3. fotocamera pur essendo da 8MP, fa foto poco definite.
per il resto, tutto ok, rispecchia le aspettative
(Posted on 1/30/14)

cheap and very practical phone Review by

Carl

The phone is excellent. I did experience a problem. Inside the function is easy to use, there are many free applications. Overall, this is a cheap and very practical phone. (Posted on 1/10/14)

THL W100S good phone Review by

Sophia

I have had this phone for two week. This phone has many of ring tones and screen savors let me choose. It has more apps than I know what to with. I have a 16GB mem card. If the screen a few bigger, longer battery life, this phone is very perfect. (Posted on 12/22/13)

THL W100S does everything I need Review by

Kelly

I really like THL W100S! i can download hundreds of useful apps and it is at a very reasonable price. the shipping time was perfect and everything was in perfect condition. For $150 you get a pretty good Android phone. It does everything I need. (Posted on 12/2/13)

THL W100S is a cheap phone Review by

Manda

THL W100S is an android phone with a lot of features. Besides the standard phone calls and texting, you can take still photos and videos, watch YouTube videos, download books, play games, read your e-mail, surf the internet, use Google maps, check Facebook, listen to music, use a calculator, check the news and weather, and much more. Cheap price and recommend it to you. (Posted on 11/29/13)

She is very satisfied Review by

Sami

I got this phone because of the CPU upgrades and camera upgrades. My daughter loves apps and this has tons of memory for apps. She used one day to adapt to this phone, She is very satisfied I gave her a gift. (Posted on 11/26/13)

she like it Review by

Monica

I purchased this for my daughter. This phone was exactly as described on line and arrived within the time it said it would. she seems to like it. (Posted on 11/19/13)

Great phone Review by

Susan

Great phone. it was just the right size, came brand new out the box. easy to activate. lots of apps to download from the android market. (Posted on 11/18/13)

this phone is very good Review by

Isaiah

It's great with games and apps, I have about 15 apps on my phone, all my frequently used applications. I do not care about the camera's pixels, the battery needs charging every day. In the low-end smart phones, this phone is very good. (Posted on 11/15/13)

great phone for the price Review by

Noah

I was impressed by the size of the screen and thinness of the phone! I found text and keyboard layout to be easy and practical- overall it's a great phone for the price, so I bought this phone for my sister and she loves it. (Posted on 11/11/13)

Cheap phone and I like it Review by

Elliott

It has a lot of free applications and plus alot more apps than i'm use to having fun learning how to work it. so far not a problem, Cheap phone and I like it. (Posted on 11/10/13)